New Guide
Cable Co-op will be upgrading its Interactive Guide. The upgrade will begin in May and is anticipated to continue through the end of the year.
New Features
Sleek, new high-resolution user interface – the modern, wide-screen (16:9) display looks great on HDTVs with a new black & grey color-scheme and crisp fonts.
HD Auto-Tune – now you can always enjoy your favorite shows in the best resolution. When tuning to an SD channel, i-Guide will automatically tune to the HD equivalent (when available).
DVR Live buffer increases – the release increases buffering of HD content to 90 minutes.
Genre color-coding layout – the grid now has color-coding bars on the left side of the cell – replacing full color of grid cell – for a more streamlined design. Color-coding remains the same: purple for movies, blue for kids and green for sports.
What's On – View TV Listings by Time or Channel
Just press GUIDE on your remote to see the program grid for the current time
Press GUIDE again for Listings By Channel
Use the arrows on your remote to navigate and highlight a program. Instant Information appears in the upper left corner
The listings are color coded by program type:

Purple – movies
Green – sports
Light Blue – kids

Press INFO on your remote for more information about the highlighted program
Press OK/SELECT to tune to the channel or set a recording for a future show
Quick Menu – Access DVR, HD, Search and More
The Quick Menu provides shortcuts directly to key features of your digital cable service. Press MENU on your remote and use the right/left arrows to highlight the icons to access DVR, HD, Search and more.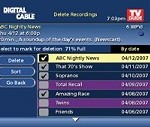 Main Menu – Your Guide to all Guide Features
Press MENU on your remote twice to access all the features of Main Menu, plus Setup, Premiums, Digital Music, Messages, and Local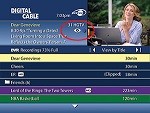 Favorites
You can easily set favorite channels and can even set up to five Favorites lists.
To make the channel you're currently watching a Favorite, just press the INFO button on your remote, select the heart icon and follow the on screen prompts
If you don't have a Favorites List set up, just follow the on-screen prompts to name your list and manage your favorites