Quotes about Cable Co-op
Quotes about & from Cable Co-op 2020-2021
Quote#1
"On behalf of our students, staff, and families, we would like to thank the Oberlin Cable Co-op and City of Oberlin for providing support during this epidemic. The support provided made great strides in the area of equity for our families. I am proud to be a part of a city that stands by its great historical reputation."
Dr. David Hall, Superintendent, Oberlin Schools. April 2020
https://www.oberlinschools.net/reset-restart/covid-19-information
Quote #2
"The Oberlin Cable Co-op continues to be an amazing asset to the community as they bring more students online every day and take on all of the installation and administrative tasks involved in the process."
Now, Nielsen says that OCS has successfully provided internet access to about 150 families and distributed over 700 laptops to students — a number that represents over 70 percent of the student population.
Steve Nielsen, IT Coordinator, Oberlin Schools. The Oberlin Review. September 2020
Quote #3
According to their website, The Bridge "provides free internet and computer access and educational classes to help bridge the digital divide within our community." The Cable Co-op has supplied internet to The Bridge at no charge since its inception in 2000. "Cable Co-op has been an essential part of The Bridge, Oberlin's Community Technology Center since our beginning in 2000," wrote Stephanie Jones, the Director of The Bridge, in an email on July 6th. "They have helped in bridging the digital divide in the community by donating free internet service to The Bridge. This has assisted in offering the Oberlin community a place to have free technology services."
Stephanie Jones, Director of The Bridge. The Grape. July 2021
Quote #4
A recent engagement between the Co-op and Oberlin's public entities came in 2020 with the Phoenix Initiative, which later transitioned into the Helping With Homework program. When Oberlin City Schools first switched to online learning in the face of the COVID-19 pandemic, the Co-op provided free and later discounted internet to households without prior broadband service to facilitate distance learning. At its inception, the costs of the program were covered by the local government, which is no longer the case. "When the pandemic hit, we reached out to all internet service providers (ISPs) serving our student population and the Cable Co-op was the only provider willing to work with us and develop a plan of action," wrote Steve Nielsen, Oberlin City Schools' IT Coordinator, in an email on July 2nd. "The Co-op significantly reduced pricing and was quick to provide internet access to every student in need within their service area. Without the Cable Co-op, we would not have been able to start the year fully remote or have any level of success with our hybrid program."
Steve Nielsen, IT Coordinator, Oberlin Schools. The Grape. July 2021
Quote #5
Cooperative internet has clear benefits when it comes to community engagement and subscriber control. However, this model of internet service depends upon members engaging with leadership and providing input on big decisions, which can be a challenge at times. "The most important thing about a membership-owned entity is that the members are active," Shrewsbury says. "That doesn't mean they're actively paying their bill, but they're active in trying to help point the entity in the direction that's best for the community."
Jay Shrewsbury, Operations Manager, Cable Co-op. The Grape. July 2021
Quote #6
Cable Co-op was founded by community members over 35 years ago, who wanted the community to have a voice on how their Cable TV provider operates and what they offer. [It] is much more than just a business located in Oberlin and Oberlin's Cable Co-op is far from just an ordinary cable company. Cable Co-op is the only non-profit, member-owned, Board Governed Internet and Cable TV provider in Ohio. We have been here for over 35 years and take pride in our community involvement. The services we provide to our community go way beyond our fast and reliable internet, great tv service, and the best service techs in the industry. Whether it is our canned food drives, reduced rates for non-profits, or one of our many programs, such as Helping with Homework and Embrace Oberlin, Cable Co-op's community involvement is the key to our longevity and the core of how we operate. We enjoy being unique in an exceptional community and strive to be an integral part of our great community of Oberlin.
Jay Shrewsbury, Operations Manager, Cable Co-op. The OBP Newsletter. August 2021
Online Reviews:
From the start of service to closing my account when I moved, I had a great experience with Cable Co-op. Everyone I spoke to was very kind, and the service was flawless. Their pricing was totally reasonable as well; I can't see a reason why anyone would go anywhere else in Oberlin for cable. Truly the epitome of a great local company.
Great, friendly hometown service.
I wouldn't go anywhere else for my high-speed internet (or television if I ever watched it). The connection is fast and reliable. But, the best part about the Cable Co-Op is the people. Always friendly, knowledgeable, and quick to help. When I first moved into my house, I had both Co-Op and Verizon. I dropped Verizon because when I called for service, it took them over 30 minutes just to get me to the proper department. Then, they quoted 2 weeks until they would be able to get to my house and restore my connection. I've been happy with Co-Op for years now. The people who are providing the service at Co-Op are the same people you're speaking with when you call or stop in. I consider the Oberlin Cable Co-Op a local treasure.
I've been a Cable Co-Op member since 1995. Wonderful service, great people!
This is a local company with a very fast response time. They have a good internet and TV service. And they are very kind people.
Great community owned company, good price and great service.
Always great customer service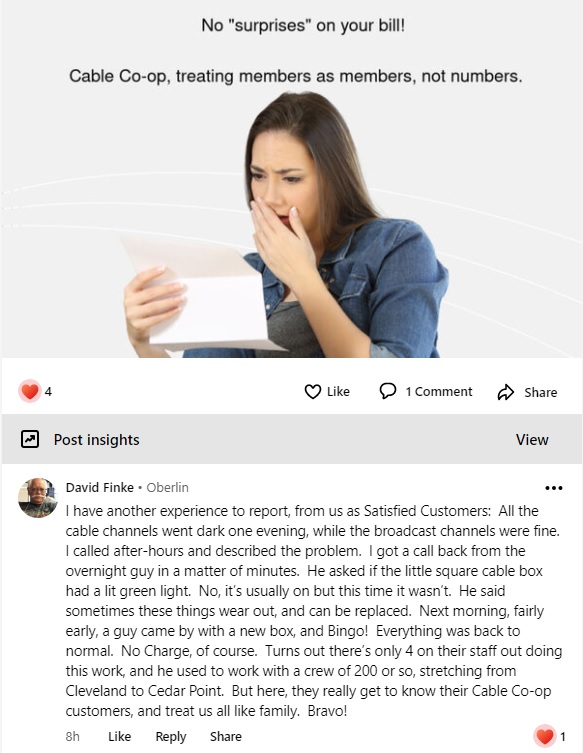 https://chroniclet.com/news/307230/nonprofit-tv-and-internet-champion-ralph-potts-retiring-from-oberlin-cable-co-op/