Online Bill Pay
Welcome to the Cable Co-op payment page.
Please read these directions in full before continuing to payment page.
Please have your full account # (9 digits with a dash) and name on the account ready. *YOU MUST HAVE YOUR ACCOUNT NUMBER TO PAY YOUR BILL ONLINE.
Your account # is located at the top of your bill under "Account Number" and on the bottom of your bill under "Account NO."
Here is an example of what your account number will look like: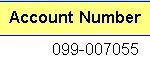 *You must enter your account number on the payment page. This is the only way Cable Co-op can guarantee your payment will go on your account.

Instructions:
1) At the top of the payment page please enter the amount you would like to pay.
2) Next, fill in account holder's First name, last name and email address.
3) Then fill out credit card payment information.
4) At bottom of page please fill in your Cable Co-op account number.*
5) Click in the "Captcha" box.
6) Click Pay Now.
Please click on link below to go to our secure payment page:
Thank you for the opportunity to be of service to you